If you love the funnel cakes at amusement parks and carnivals, you'll love this homemade funnel cakes recipe! We love funnel cakes, but they're so expensive to buy. Using this recipe, you can make them for just pennies and our kids just LOVE them! They're a fun summer treat and because they're so quick, easy and inexpensive, you can make them as a treat for the kids when they've been out playing all day! (Or you might just want to treat yourself! 😉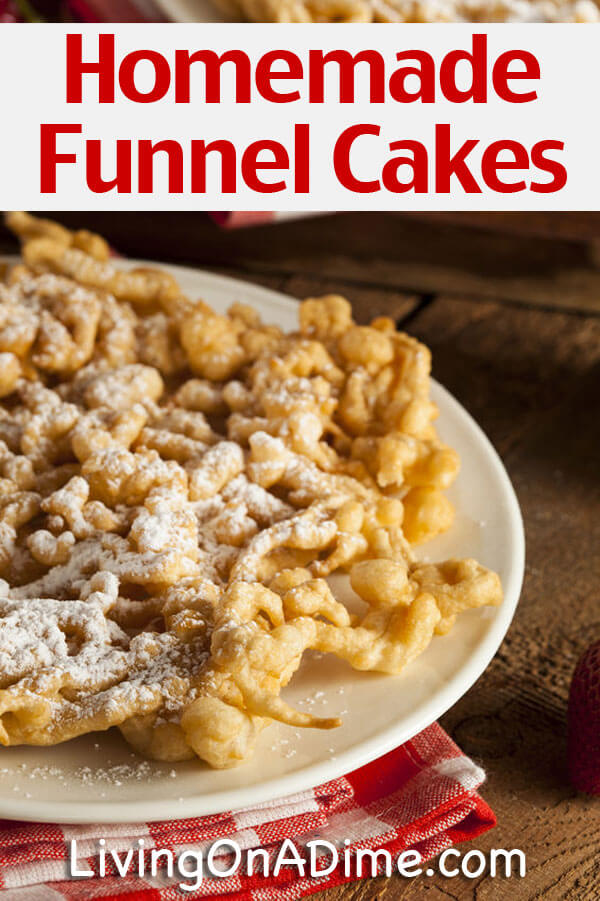 Homemade Funnel Cakes Recipe
1 1/4 cup sifted flour
2 Tbsp. sugar
1 tsp. baking soda
3/4 tsp. baking powder
1 tsp. salt
1 egg
3/4 cup milk
Sift together dry ingredients. Mix egg and milk and add to dry ingredients. Stir until smooth. Pour oil into a skillet and heat to 375 degrees. Holding finger over the end of a funnel, pour in 1/4 cup batter. Holding over the hot oil, remove finger and let drizzle over the hot oil. As batter flows, move funnel in a circle to form a spiral cake.* Fry about 2 minutes on each side, turning once until golden brown. Remove from oil and drain. Sprinkle with powdered sugar, glaze or nuts. Makes 6 cakes.
*If you find it too hard using the funnel, try putting the batter in a squeeze bottle (the kind you can get at the Dollar Store to put ketchup and mustard in) then squeeze the batter into the oil making a straight line and make sticks instead of the round "cake" shape.
This recipe is from our cookbook:
Would you like to serve food that will lower your grocery bill and your family will love to eat?
Click here to get the Dining On A Dime Cookbook, with tasty recipes and great tips to make your life easier and save you money!