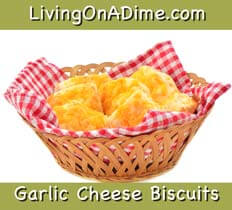 Tips:
Quick Meatballs – add 2/3 cup of crushed seasoned stuffing mix to 1 lb. hamburger. Mix and roll into balls.
Use up stir fry leftovers by adding a little soy sauce to the vegetables and rice. Then spread the mixture on a warm flour tortilla and roll burrito style.
Keep a plastic knife in your canisters to level off things like flour or sugar.
Menu:
Confetti Chicken and Rice*
Garlic – Cheese Biscuits*
Frozen Fruit Fluff*
Recipes:
This recipe is especially quick if you use leftover chicken and rice in it. I call this type of recipe a dump and mix recipe. It calls for a lot of ingredients but is simple because you are just opening a lot of cans. It could be mixed up ahead of time to pop in the oven when you need it.
Confetti Chicken and Rice
1 can (10 3/4 oz.) cream of chicken soup
1 cup (8 oz.) sour cream
1/2 cup small curd cottage cheese
1 (3 oz.) pkg. cream cheese, softened
3 cups chicken, cooked, cubed
3 cups rice, cooked
1 1/2 cup Monterey Jack or Mozzarella cheese, shredded
1 can (4 oz.) chopped green chilies
1 can (2 1/4 oz.) sliced ripe olives, drained
1/8 tsp. garlic salt
1 1/2 cup crushed corn chips
2 cups shredded lettuce
2 medium tomatoes, chopped
Blend first 4 ingredients well. Add in next 6 ingredients. Pour into a greased 2 quart baking dish and bake uncovered at 350 degrees for 25-30 minutes or until heated through. Just before serving, top with corn chips, lettuce and tomatoes.
2 cups flour
2 1/2 tsp. baking powder
1 tsp. salt
1 tsp. garlic powder
2 Tbsp. chives (optional)
3/4 cup Cheddar cheese, grated finely
4 Tbsp. shortening
1 cup milk or sour milk
Mix flour, baking powder, salt, garlic powder, chives and Cheddar cheese in a bowl. Cut in shortening with a pastry blender or fork until it resembles cornmeal. Add milk, stirring just enough to combine ingredients. Do not over stir. Drop by tablespoonfuls onto an ungreased cookies sheet and bake at 450 degrees for 15-20 minutes or until golden brown. Makes 10 biscuits.
Note: You could add bits of bacon or pepperoni to this recipe, too.
Frozen Fruit Fluff
3 medium firm bananas, sliced
1 can (29 oz.) peach halves, drained and diced
1 can (21 oz.) cherry pie filling
1 can (14 oz.) sweetened condensed milk
1 carton (8 oz.) whipped topping
Combine everything but whipped topping and mix well. Fold in whipped topping. Pour into a 13×9 pan. Cover and freeze for 8 hours or overnight. Will keep in freezer 1 month.
For more quick and easy menus like these to help you make dinner quickly without stressing over making your own menus, check out our Menus On A Dime e-books!
Photo By: ohmeaghan