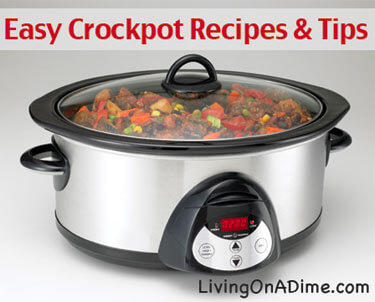 Easy Crockpot Tips and Recipes
Using your crockpot can save you a lot of money, slash the amount of time you have to spend preparing meals, allow you to prepare more wholesome meals for your family and reduce your overall stress. Cooking with a crockpot can also save a lot of energy, because you don't have to heat up the house in the summer when you're trying to keep it cooler. Here are a few crockpot tips and recipes from our Easy Crockpot Recipes and Menus e-book to help you with your crockpot cooking.
Crockpot Tips
Unless the recipe states otherwise, always cook with the lid on your crockpot. It is best not to open the lid while cooking.
Many recipes that you cook in the oven or on top of the stove can be adapted to the crockpot. If it takes 2-4 hours to cook in the oven or on the stove top then it will take about 4-6 hours on high or 8-10 hours on low in the crockpot.
If you need to reduce the liquid, take the lid off for the last half hour of cooking. You could also make a mix of 2 teaspoons cornstarch with some of the liquid from the dish and stir it into the rest. Then allow it to cook and thicken.
If you find yourself going out to eat a lot because you hate the clean up, then try using crockpot liners. It is much less expensive to use them than to eat out. Liners are especially good to use when you have company and during the holidays.
To make crockpot dishes even easier and faster keep a supply of ingredients like cooked hamburger, sausage, bacon or ham in the freezer. Then you won't have to dirty a skillet or take the time to cook things like hamburger before you toss them into the crockpot.
Normally you should fill your crockpot about 3/4 full, especially if you are cooking soups and stews. Add the ingredients and then add liquid to fill it to 3/4 full.
If you have a large crockpot and a smaller recipe, simply put the recipe ingredients in an oven proof dish (like Pyrex) and set it down inside your crockpot. Then cover and cook.
Barbecue Chicken Crockpot Recipe
4-6 pieces chicken
1 cup barbecue sauce
1/4 cup white vinegar
1/4 cup brown sugar
1/2 tsp. garlic powder
1/2-1 tsp. red pepper flakes
Place chicken in a crockpot. Mix remaining ingredients. Pour over chicken. Cook on low in the crockpot about 4-6 hours.
Brown Rice and Chicken
1-2 cups diced cooked chicken
2 onions, chopped
2 stalks celery, chopped
2 cups cooked brown rice
2 cups chicken broth
1 cup sliced almonds, toasted
Combine all ingredients but almonds in a crockpot. Cook on low 6 to 8 hours or on low 4 to 5 hours. Serve with almonds.
Just a note:  READ ALL THE COMMENTS!! As usual our readers have some great ideas for using Crockpots!
Eating out is expensive! You can make wholesome meals at home in minutes for the entire family for less than the cost of one person eating out! For more easy crockpot tips and recipes, check out our brand new Easy Crockpot Recipes and Menus e-book today!