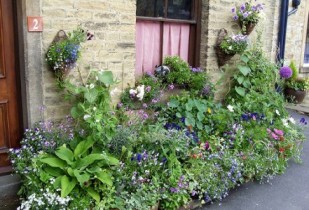 Disposable Diapers in the Garden!
Where I live, it gets very hot in the summer. My deck doesn't have any shade and some of my plants needed to be watered twice a day. I was going to buy the granules that hold water from the garden center. A small container of the water granules was $25!
Even though I really needed it to keep my plants going this summer, I just couldn't come to bring myself to pay that much. One day, I was thinking about it as I was changing my son's diaper. Then it dawned on me! The same stuff is in baby diapers!!!
I tore open the center of a diaper and scooped out all the cotton with the granules in it into a bowl. Out of curiosity I wanted to see just how much water it would hold. I was hoping for two cups. It held NINE cups of water! That means I could use this stuff in 3-5 containers of plants, depending on the size. I can get diapers for .20 each so the cost isn't huge.
Remember, Always Think Outside the Box!
      -Tawra
P. S. We had a question about the safety of using these in your pots. I personally don't have a problem with it. I didn't use these in my vegetable plants only flowers. Use your own judgment regarding whether or not you want to use them with vegetables.
photo by: Helen Olney