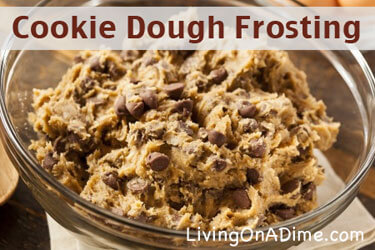 We love cookie dough in any shape or form. Here's a cookie dough frosting recipe you can use to top virtually any kind of cake or cookie or, better yet, eat it by the spoonful.

Cookie Dough Frosting Recipe
1/2 cup butter, softened
3/4 cup brown sugar
1 1/4 cups flour
1 tsp. vanilla
1/2 tsp. salt
4 Tbsp milk*
1 cup mini chocolate chips
Mix all of the ingredients well in the order listed. Add milk gradually until it makes the consistency you want. Then fold in the chocolate chips.  This recipe frosts about 12 cupcakes.
*Add less milk and you can use it as a dip for cookies, cake or graham crackers.