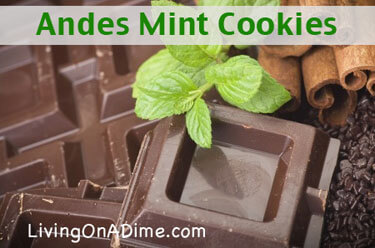 This Andes Mint Cookies Recipe has only 4 simple ingredients and these cookies don't need frosting. Can it get any better than mint and chocolate?
Andes Mint Cookies
1 Devil's Food Cake Mix
1/2 cup oil
2 eggs
1 package of Andes Mints
Mix cake mix, oil, and eggs together. Drop spoonfuls of dough onto greased baking sheet. Bake at 350 degrees for 6-9 minutes. Don't cook any longer than that! You don't want them to be overdone!
While the cookies are still very hot, place an Andes Mint on top of each cookie. In about 5 minutes, the mint will be melted. Take a spoon and smooth out each mint like frosting.