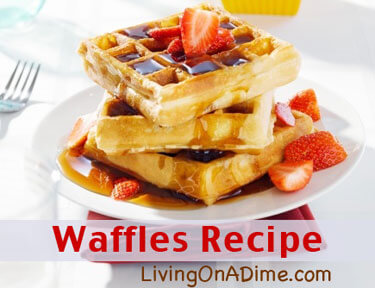 Waffles And Breakfast Tips
Everyone loves waffles. If you are making your own don't forget to sprinkle with crumbled bacon for the adults before you cook them or chocolate chips (use some of that leftover chocolate from Christmas) for the kids or chopped fruit for everyone.
For extra fluffy waffles, separate the yolk and the white. Add the yolk to the batter and beat the white in a separate bowl. Then fold into the batter.
Another way to get extra fluffy pancakes or waffles is to substitute part of the liquid with club soda.
Don't forget to freeze the extras and/or make extras while you have everything out, to freeze. Then you have something quick and easy to pop in the toaster for those hurried mornings or evenings.
When making pancakes, waffles, or French toast, always cook all the batter or, in the case of the French toast, make a few extra pieces to place in the freezer for those hectic mornings. Just pop them in the toaster and use them like you would use the expensive ones you find in your freezer section at the grocery store.
Do the same with extra sausage patties. Freeze them and then when you have leftover biscuits, slide one into each biscuit and freeze the whole thing for a quick sausage and biscuit sandwich to take with you.
Breakfast
Menu #1
(for those of you not on a diet)
Waffles*
Dutch Honey Syrup*
Bacon or Sausage
Grapefruit halves or orange slices
Coffee or Tea
Recipes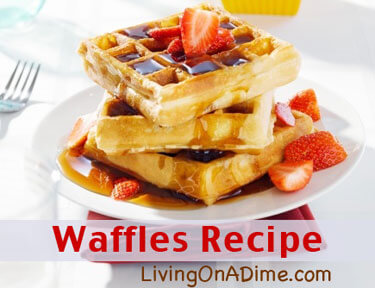 Waffles
2 eggs
2 cups flour or wheat flour
2 Tbsp. sugar
1/2 cup vegetable oil, margarine or butter, melted
4 tsp. baking powder
1/4 tsp. salt
1 2/3 cups milk
Heat waffle iron. Beat eggs in a medium bowl until fluffy. Beat in remaining ingredients just until smooth. Do not over mix. Pour batter onto center of hot waffle iron. Bake 5 minutes or until steaming stops. Remove carefully. Makes twelve 4 inch waffles.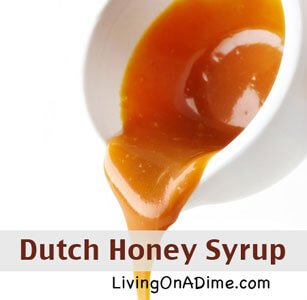 Dutch Honey Syrup
I got the recipe for this syrup from my sister-in-law Kathleen. It is not for the faint of heart or for those on a diet but it is to die for. I usually set this out on the stove when I first start dinner so it will be ready by the time everything else is done. You can also make it the day before. It's like pouring melted caramels on your waffles.
1 cup sugar
1 cup light corn syrup
1 cup heavy cream
Place ingredients in a medium sauce pan, bring to a boil, lower heat and simmer for 30 minutes or more until caramel colored. Watch it because it boils over very easily.
Breakfast Menu #2
(for those of you watching your waist line, sort of)
Scrambled eggs
Bacon or sausage
Grapefruit halves or orange slices
 Baked French Toast or English Muffin
Coffee or tea
This next recipe is another good recipe for breakfast, brunch or dinner. You can substitute leftover dry bread for the French bread if you like.Keep a bag in the freezer and when you have one or two pieces of dry bread, toss them in. When you have enough make something like this recipe or stuffing.
Baked French Toast
1 loaf Texas Toast or French Bread, broken into cubes
6 eggs
1 1/2 cups milk
1 1/2 cups half and half
1 tsp. vanilla
1/4 tsp. cinnamon
1/2 cup (1 stick) margarine
1 cup brown sugar
2 Tbsp. dark Karo syrup
1 cup walnuts
Place bread into a 9×13 pan. Beat eggs and add next four ingredients. Pour over bread. Refrigerate overnight. Before baking, mix margarine, sugar, syrup, and nuts. Melt and pour over bread. Bake at 350° for 45 minutes. Do Not over bake.