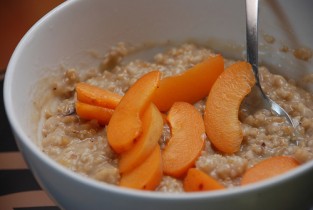 Hello. I just thought I'd share a tip I learned recently about oatmeal (after seeing your post of breakfast tips). We find re-heated oatmeal unappealing to serve again as a cereal. But the thrifty in me hates to throw it out. I learned recently to put it in pancake batter.

Just mix your batter normally and add in the oatmeal to the finished product. You may need to add just a touch of milk, but I rarely do. This actually makes the pancakes heartier as well as using up something that may otherwise go to waste. The same gal that told me of this trick also adds it to bread dough. I haven't tried it yet, but look forward to doing so soon!

Rachel
I bet this would be good in bread and even in muffins or other quick breads.
-Jill
photo by: kthread