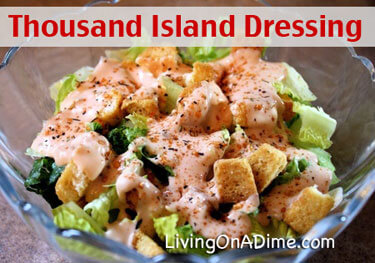 This Thousand Island Dressing Recipe is an easy homemade version of the classic salad dressing that you can make at home for pennies. It's good not only on salads and vegetables, but also on sandwiches and hamburgers. It's similar to the Big Mac sauce at McDonalds.
Thousand Island Dressing Recipe
3/4 cup mayonnaise
1 Tbsp. sweet pickle relish or sweet pickle, minced
2 Tbsp. chili sauce or ketchup
2 Tbsp. green bell peppers, minced
1 Tbsp. fresh or 1 1/2 tsp. dried parsley
1/2 tsp. onion powder or 2 Tbsp. onion, minced
1/2 tsp. granulated sugar
1/4 tsp. Worcestershire sauce
1 Tbsp. lemon juice 1
hard-boiled egg, chopped
Combine all the ingredients in a bowl except egg. Mix well. Stir in the egg. Refrigerate. Makes 1 1/3 cups.
This recipe is from the Dining On A Dime Cookbook. For more quick and easy recipes your family will love, check it out here!