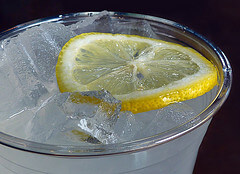 These Lemonade Ice Cream Sandwiches are really handy to make ahead of time and keep in the freezer, not only for dessert but for a snack any time on a hot summer day.
Lemonade Ice Cream Sandwiches
1 1/2 cups vanilla ice cream, softened
1 3/4 tsp. lemonade soft drink mix
2 Tbsp. water
1/2 cup whipped topping
16 graham cracker squares
Place ice cream in a bowl. Dissolve lemonade mix in water. Then stir into ice cream. Fold in whipped topping. Freeze about 20 minutes. Spread about 3 Tbsp. of the mixture on 8 of the graham cracker squares and top with the other 8. Wrap in plastic wrap and freeze for at least 1 hour.
photo by: ra604