Eggnog is one of those tasty treats that many of us love to indulge in during the Christmas holidays but it's easy to end up with a lot of it left when the party is over! The good news is that eggnog makes a tasty addition to a lot of other recipes!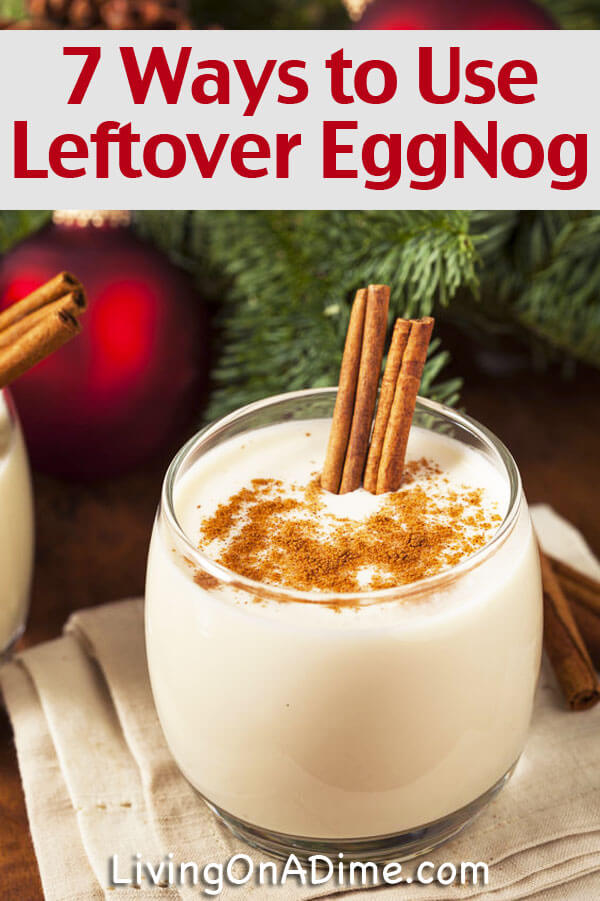 7 Ways to Use Leftover EggNog
I started to post these tips after Christmas but I just realized there will be a lot of eggnog served at Christmas parties over the next week or two. Instead of saving these leftover eggnog tips until after Christmas, here are a couple more ways to use it now:
Use eggnog in place of milk in your bread or rice pudding.
Pour leftover eggnog on hot cereal in place of milk.
Use eggnog in place of milk in your favorite pancake mix.
Use eggnog in place of milk in a yellow cake for a really nice rich cake.
Use eggnog in place of milk in muffins especially good in spice or that type of muffin.
Use eggnog for French toast.
       -Jill
 Another way to use leftover eggnog is to make this delicious eggnog pound cake recipe! It's so good, you might even buy leftover eggnog on clearance just to make it! I hope you enjoy it as much as we did.
Eggnog Pound Cake Recipe

2 Tbsp. margarine
2/3 cup sliced almonds
Grease Bundt or tube pan with margarine and press almonds into sides and bottom.
Cake Recipe:
1 package yellow cake mix
3 Tbsp. margarine, melted
1 1/2 cups eggnog
2 eggs
1/8 tsp. nutmeg
Beat everything together until smooth. Pour into prepared pan and bake at 350° for 40-50 minutes, until toothpick inserted into the center comes out clean. Cool on wire rack.