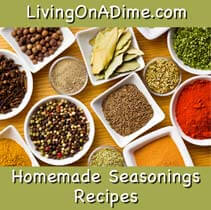 Here are some of our homemade seasonings recipes from the Dining on a Dime Cookbook and a few other seasoning recipes thrown in just because I love them.
Homemade Seasoned Salt
8 Tbsp. salt
1/2 Tbsp. onion powder
3 Tbsp. pepper
1/2 Tbsp. garlic powder
2 Tbsp. paprika
Mix all ingredients in a bowl. Store in an airtight container. use on everything! This is my favorite seasoning!
Homemade House Seasoning
1 cup of salt
1/4 cup of garlic powder
1/4 cup black pepper.
Mix and use on everything! This is my 2nd favorite homemade seasoning!
Homemade Taco Seasoning
6 tsp. chili powder
3 tsp. onion powder
4 1/2 tsp. cumin
2 1/2 tsp. garlic powder
5 tsp. paprika
1/4 tsp. cayenne pepper
1/4 tsp. oregano
Mix all ingredients and store in an airtight container. One teaspoon of homemade taco seasoning equals 2 teaspoons of the store-bought seasoning.
Homemade Italian Seasoning
1/4 cup dried basil
2 Tbsp. dried thyme
2 Tbsp. dried marjoram
2 Tbsp. dried rosemary
2 Tbsp. dried oregano
2 tsp. garlic powder
2 Tbsp. dried coriander
1 tsp. sugar
Combine all the ingredients. Store in an airtight container in a cool dark place for up to 3 months.
Homemade Poultry Seasoning
2 tsp. sage
1 1/2 tsp. thyme
1 tsp. marjoram
3/4 tsp. rosemary
1/2 tsp. nutmeg
1/2 tsp. black pepper
Mix well. Rub Homemade Poultry Seasoning on the outside of the chicken before roasting. This homemade seasoning can also be used in stuffings and in soups.
Homemade Fajita Seasoning Mix
1 Tbsp. cornstarch
2 1/2 -3 teaspoons chili powder (vary according to how spicy you like it)
1 tsp. salt
1 tsp. paprika
1/2 tsp. onion powder
1/2 tsp. garlic powder
1/4 tsp.cumin
Mix all ingredients. To use, sprinkle chicken or steak with fajita seasoning. Sprinkle with lime. Mix and let marinate one to several hours. Fry in hot oil .
For more homemade seasonings recipes along with hundreds of recipes for quick, easy and inexpensive home cooked meals, check out our Dining On A Dime Cookbook.