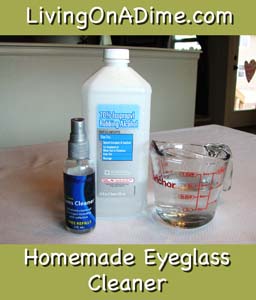 Homemade Eyeglass Cleaner Recipe
Have you seen how expensive eyeglass cleaner is at the store? Did you know that you can make your own homemade eyeglass cleaner for just pennies?
Here is the best recipe we have found and use on a daily basis! With four people wearing eyeglasses in our family you know we go through a lot of eyeglass cleaner!
Homemade Eyeglass Cleaner
Fill a small spray bottle with:
1/2 isopropyl alcohol
1/2 water
1 drop of  dish soap (optional)
Gently shake. Spray on eyeglasses and wipe with a clean 100% cotton cloth.