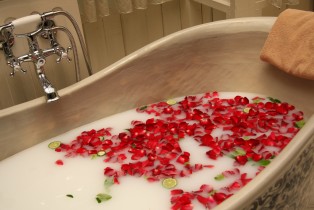 Lock yourself in the bathroom, put on some soothing music and light a candle… If you are lucky, you may have 5 minutes of peace and total quiet before your hubby and kids notice you are missing. 😉
Every time I soak in the tub, I think of one of my favorite cartoons. It it shows the woman laying in a bubble bath and yelling to her husband, "We really need to get new faucets for this tub. I can't turn these on and off with my toes." 😀 😀
Here is a recipe for a homemade milk bath and tips that will help you relax and feel better!
Milk Bath Recipe
 3 cups dry milk
 5-6 drops essential or fragrance oil
Mix ingredients and add ½ cup to your bath water. If you don't have dry milk, try adding 2-3 tablespoons baby oil for a relaxing bath!
Tips
Eyes looking a little rough around the edges? Try cucumber slices or tea bags on the eyes to help reduce puffiness. Try it for half an hour while soaking in the tub.

To save money on manicures, don't get them so often. Instead, use a nail buffer to shine nails between manicures.

Go to the local beauty school to have manicures, pedicures and facials. You can feel pampered without spending a fortune. Five bucks is a great deal for a facial!

After Christmas sales can offer many great deals on bath and beauty products. Purchase nail care kits after Christmas at half price. You can get several polishes and tools for $2-$4. If you family loves to receive perfume, cologne or aftershave, stock up after Christmas when gift sets are on clearance. Give for Mother's Day, Father's day, Birthday's, etc.
For more easy recipes and tips for homemade beauty products, check out our Dining On A Dime Cookbook!
photo by: denniswong