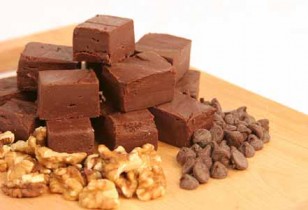 Mom was making fudge this weekend so I just had to share our favorite fudge recipe. This is so easy and soooo yummy! Mom can never make enough! To save on the cost of the Hershey's we usually buy them on clearance after Halloween.
Enjoy!! Tawra
Grandma's Million Dollar Fudge
4 1/2 cups sugar
1 (12oz) can evaporated milk
1 Tbsp. butter
Mix ingredients, then boil 5 minutes.
Add:
2 1/2 (6 oz) large Hershey's candy bars, crushed
1 (12 oz) bag semi sweet chips
1 (7 oz) jar marshmallow cream
1 tsp. vanilla
nuts
Beat until well blended. Pour into 2 greased 9×13 pans for thicker pieces and for thinner pieces add another 8×8 pan.
Jill's Helpful Fudge Tips:
Before you start, be sure to have your pans all ready, your candy bars crushed, nuts chopped and every package opened and ready to dump in as soon as it is done boiling.
I use milk chocolate candy bars, but my son-in-law and grandson love dark chocolate so I sometimes use dark chocolate and milk chocolate together. You can even substitute milk chocolate for the semi sweet chips. You can easily tailor it to your own personal preferences.
Last year after Halloween, my daughter found a good deal on Hershey's Kisses for 50 cents a bag, so I used those in place of my candy bars. That is why I say stock up after Halloween! The main thing is to have about 24 oz. of some kind of chocolate in the recipe.
To make my life easier, I line the pan with plastic wrap, parchment paper or something like that and butter it well. Then I lift it out out the pan after it has cooled and use my metal pastry cutter (that has been buttered) to slice it. It works so well! I don't cut it. I just press straight down with the cutter. There's no gummy mess like I used to get when I would drag my knife through it.
Sometimes I allow it to thicken, pour it onto plastic wrap and wrap and roll into logs, then slice.
      -Jill
For more homemade fudge and Christmas candy recipes, check out our Dining On A Dime Cookbook.