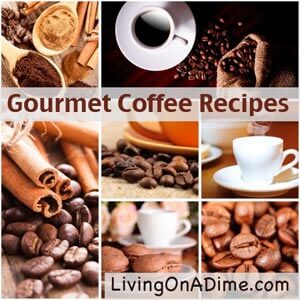 Gourmet Coffee Recipes
Mix these yummy gourmet coffee recipes and creamers for yourself to enjoy or put them in pretty jars to give as gifts all year long. They make great gifts  for birthdays, Mother's Day, Father's Day, Christmas or as housewarming gifts. They're also a great "just because I care and know you are going through something difficult" gift.
If these aren't enough for you check out Dining on a Dime for even more mixes.
French Vanilla Creamer
14 oz. milk (whole, lowfat, or skim – It doesn't matter which you choose.)
14 oz. sweetened condensed milk
2 teaspoons vanilla
a mason jar (quart is perfect)
Mix all ingredients in a jar. Shake until well blended.
Variations:
Add 1 Tbsp. cocoa and 1 tsp. almond extract for a chocolate almond flavor.
Add 1 tsp. almond extract and 1/2 tsp orange extract for cappuccino.
Add 1/2 tsp cinnamon and 1 tsp almond extract for amaretto.
Add flavored syrups to taste for additional flavors.
For the following gourmet coffee recipes, mix the ingredients and add 2-3 Tbsp. of the mix to one cup of boiling water. Adjust the amount of mix to your taste.
Minted Coffee Mix
3/4 cup coffee creamer, powdered
1/2 cup sugar
1/4 cup instant coffee
1/4 cup cocoa
dash of salt
4 peppermint candies, crushed
Orange Spice Coffee
2/3 cups instant coffee
1 cup sugar
dried crushed orange peel
1/4 tsp. cinnamon
 Vienna Coffee Mix
1 cup sugar
2 tsp. cinnamon
11/2 cups non-dairy creamer
1 1/2 cups powdered milk
4 Tbsp. Cocoa
1 cup instant coffee
Cinnamon and Spice Coffee
2/3 cup instant coffee
1 1/3 cups sugar
1/2 tsp. cinnamon
1/2 tsp. nutmeg
1/2 tsp. allspice
Toffee Coffee
1 cup instant coffee
1 cup non-dairy creamer
1 cup brown sugar
Italian Mocha Espresso
1/2 cup instant coffee
1/2 cup sugar
2 1/4 cups cocoa powder
Orange Cappuccino
1 cup instant coffee
11/2 cups sugar
2 cups powdered milk
1 tsp. dry orange peel
Would you like to serve food that will lower your grocery bill and your family will love to eat?
Click here to get the Dining On A Dime Cookbook, with tasty recipes and great tips to make your life easier and save you money!