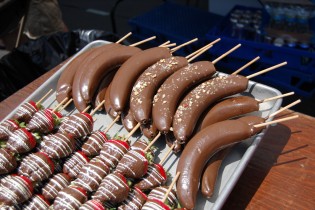 bananas
skewers (optional)
Cut bananas in half crosswise. Insert skewer in the thicker end. Place bananas on a tray and place in freezer. When frozen, move to a plastic bag and keep frozen until ready to use.
Toppings
yogurt nuts, finely chopped
peanut butter applesauce
melted chocolate coconut
wheat germ
Allow bananas to thaw slightly. Put toppings in small bowls. Dip banana before each bite. Eat plain or roll or dip into any of the toppings. Use the wet topping first so the others will stick.
For more quick and easy recipes for tasty treats like this, check out our Dining On A Dime Cookbook!
photo by: alexandratx