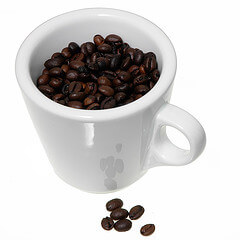 Easy Swiss Mocha
1/2 cup instant coffee
2 Tbsp. cocoa
1/2 cup sugar
1/4 tsp. vanilla
1 cup nonfat dry milk
Stir ingredients together. Process in a blender until powdered. Makes 2 cups mix.
*Attach this note to the jar if making a jar mix:
Use 1 cup of hot water and 2 tablespoons of coffee mix for each cup of coffee.
This Swiss Mocha recipe is one of hundreds of recipes from the Dining On A Dime Cookbook. For more quick and easy recipes your family will love, check out Dining On A Dime here!
photo by: refractedmoments