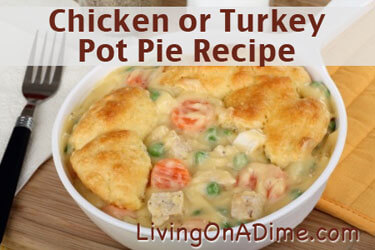 Chicken or Turkey Pot Pie Recipe
1 2/3 cups frozen mixed vegetables, thawed
1 1/2 cups chicken or turkey, cooked and cubed
1 ( 10 3/4 oz.) can cream of chicken soup
1/4 tsp. thyme, dried
1 cup biscuit mix*
1/2 cup milk
1 egg
In a bowl, combine vegetables, chicken, soup and thyme. Pour into an ungreased 9-inch pie plate. Combine biscuit mix, milk and egg. Pour over chicken mixture. Bake at 400 degrees for 25-30 minutes until golden brown. Serves 4-6.
*For a super easy and quick dish replace the biscuit mix, milk and egg and use canned biscuits or crescent rolls to top the chicken mixture.
From: The Dining On A Dime Cookbook. For more quick and easy recipes your family will love, check out Dining On A Dime here!
photo by: shoshanah