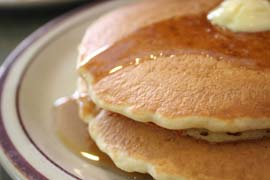 Baking Mix Pancakes Recipe
2 ¼ cups baking mix
1 ½ cups water
¼ cup sugar
2 Tbsp. vegetable oil
1 egg
Mix ingredients until moist. The batter should be lumpy. Cook on a hot greased griddle. Flip when bubbles break on the surface and the edges begin to dry. Makes 15-18 medium pancakes.
This Baking Mix Pancakes Recipe recipe is from our cookbook:
Would you like to serve food that will lower your grocery bill and your family will love to eat?
Click here to get the Dining On A Dime Cookbook, with tasty recipes and great tips to make your life easier and save you money!