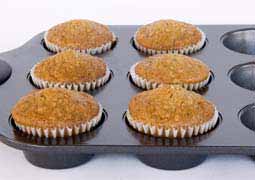 Baking Mix Muffins
2 ¼ cup baking mix
¼ cup sugar
1 egg
¾ cup water
1/3 cup vegetable oil
Mix dry baking mix and sugar. Add egg, water and vegetable oil to dry ingredients. Mix only enough to moisten flour. The batter will be lumpy. Fill greased muffin tins two-thirds full. Bake at 400° for 20 minutes.
*For an added surprise fill muffin cup halfway and then add a spoonful of jelly. Top with more batter. Add raisins, cinnamon or nuts for gourmet muffins.
Makes 12-15 muffins.
From Dining On A Dime