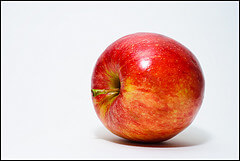 Apple Cinnamon Muffin Mix
2 cups flour
1/2 tsp. baking soda
1/4 tsp. salt
1 tsp. baking powder
1 tsp. ground cinnamon
1/2 cup raisins and/or nuts
In a bowl, mix together first 5 ingredients. Place in an airtight container. Package raisins and nuts separately.
Topping
3 Tbsp. sugar
1/4 tsp. cinnamon
1/4 tsp. nutmeg
Mix topping ingredients in a bowl. Package in a small cellophane bag.
Attach this to the jar:
Apple Cinnamon Muffin Mix
To prepare, preheat oven to 350°. Mix together:
Apple Cinnamon Muffin Mix raisins and/or nuts 1 cup apple juice
2 Tbsp. oil or margarine. melted
1/2 cup applesauce
Stir just until combined. Spoon into lightly greased muffin tins and bake for 20-25 minutes or until toothpick inserted in center comes out clean. While still warm, dip in melted margarine and then topping. Makes 12-15 muffins.
For more quick and easy jar mix recipes like this, check out our Dining On A Dime Cookbook!
photo by: abhijittembhekar