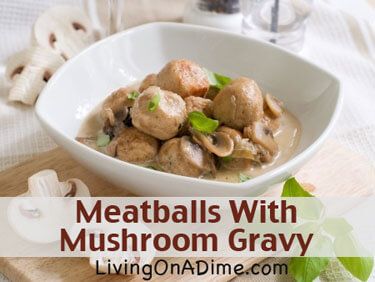 Meatballs With Mushroom Gravy Recipe
This Recipe Was Submitted by Roxie in Texas
1 pound ground beef
1/4 cup bread crumbs (dry)
1 egg, beaten
2 Tbsp. finely chopped onion
1/4 tsp salt
1/4 tsp pepper
Mix all ingredients together and form into small balls about 1 1/2 inches in diameter. (I form mine in a teaspoon.) Bake at 400° for 10 -13 minutes. This makes about 40 meatballs.
1 can of cream of mushroom soup
1 soup can full of milk
Whisk soup and milk together and pour over the cooked meatballs. Bake for about an hour at 300°. Serve over mashed potatoes.
I have also made this with cheddar cheese soup. Just as good, only a different taste.
Would you like to serve food that will lower your grocery bill and your family will love to eat?
Click here to get the Dining On A Dime Cookbook, with tasty recipes and great tips to make your life easier and save you money!