Many people experience disgusting mold in their front load washing machines but I don't. Here's the secret trick I use so I never have to clean mine!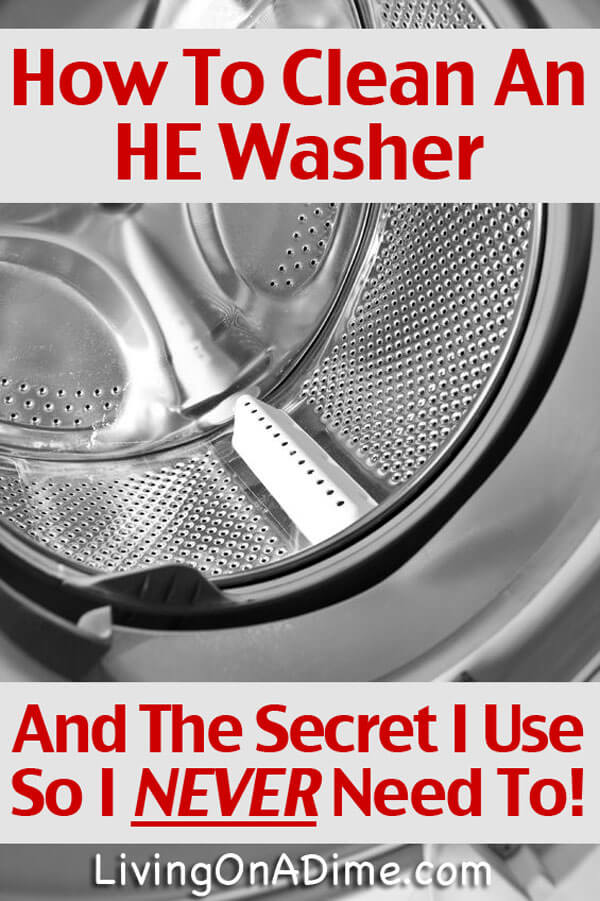 How To Clean A Front Load He Washing Machine And The Secret Trick I Use So I Never Need To!
I have had my front loading HE washing machine for 7 years now and I LOVE it! It's funny how I happened to get it. 
Our old washing machine was ok but it didn't get things as clean as I would like and a nail had gotten stuck between the side of the washer and drum and it made a HORRID screeching noise every time I used it! We're talking nails on a chalkboard type of thing.
One day I had a 4 hour drive each way to see a special doctor. While I was gone (15 hours) my wonderful husband decided to do all the laundry for me and after that, he said, "I can't believe you're actually using this thing!" After that, I got a new washer! LOL
So needless to say, I was VERY happy to get my new front loading washer!
After a couple of years, whenever I would talk about my front loading HE washer, everyone would say, "I hate those high efficiency washers. They do nothing but mold," and I would say, "I've never had a problem with the washer molding." I had one friend that kept insisting that HE washing machines always mold and just couldn't believe that I have NEVER, EVER had to clean my HE washer!
I was looking around on Pinterest one day and I saw a post about a lady who was showing how to clean a front loading HE washer. So I checked it out to see what the problem was and Wow! I can see why some people get so grossed out by their washers! But since I've NEVER, EVER had to clean my HE washer I didn't even know it could get like that! 
I admit, it disturbed me. I just kept wondering, "Why do other people's washers get that gross but mine doesn't?"  Well I have finally come up with the answer. Do you want to know my secret??
Drumroll please…
Are you ready?…
I use bleach and the sanitary cycle to clean my whites once a week. Seriously– that's it! I don't do anything but that and it works! It works great! I've never ever bought anything and I've never ever had to clean my front loading HE washer because I bleach my whites.
I know that not everyone likes bleach, so I've added some tips on how to clean the inside of your washer if you don't want to use bleach on your clothes. You will NEVER have to spend money on washing machine cleaning tablets ever again. Really those are just a gimmick to get you to buy more stuff anyway.
How To Clean Your Front Load Washing Machine
Solution #1 – Run a load of whites with bleach or run an empty load with 1 cup bleach on the hottest setting you can use.
Solution #2 –  Wipe the washing machine down with a bleach water solution. Pull back the rubber seal and wipe inside there too. Rinse. 

Solution #3 – Homemade HE Washer Cleaner

2 cups vinegar
1 cup baking soda

Pour vinegar in the detergent compartment. Pour baking soda into drum of washer and use hottest water setting possible.

Solution #4 – Wipe it down with a bleach water solution. Pull back the rubber seal and wipe inside there too. – Just wipe the HE washer down with vinegar and rinse.
Solution #5 – How to clean a front loading washer – Add 1/2 cup dishwasher detergent to your washer either with white clothes or without clothes and run on the hottest setting.
Solution #6 – To prevent mold build-up in your washer– Wash 1 load of whites a week with bleach or add 1/2 cup of Borax to each load of laundry. If you're hesitant to use bleach, adding Borax to every load will virtually eliminate the problem.
Additional High Efficiency Washer Tips:
Be sure you aren't using too much laundry detergent and that you use the right kind of laundry detergent. With laundry detergent, more is NOT better. Soap build up will cause the bacteria to build up too.
You can use Homemade Laundry Soap that just costs $10 per YEAR if you want, too!
And leave the door open so it will air out.
So that's the way to keep your front loading washer clean!  Pretty easy and it takes just a couple of minutes!
Enjoy your fresh clean washer!
Would you like to serve food that will lower your grocery bill and your family will love to eat?
Click here to get the Dining On A Dime Cookbook, with tasty recipes and great tips to make your life easier and save you money!