If you like hand sanitizer, try this quick and easy homemade hand sanitizer recipe to make your own along with tips for saving money on hand sanitizer.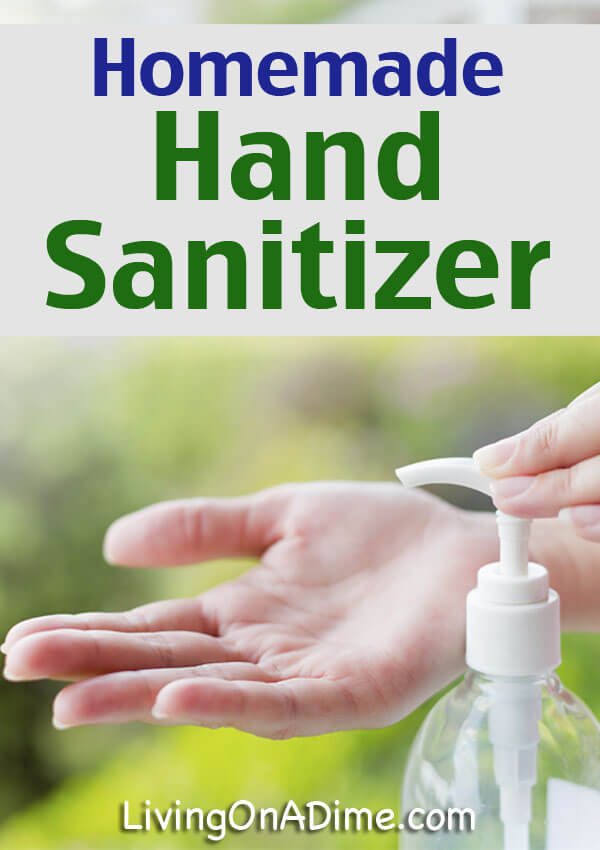 We get a lot of questions about making homemade hand sanitizer. Honestly, homemade hand sanitizer is one of those things I don't make because you can buy it in large bottles for very little — probably less than buying the ingredients, especially if you buy things like essential oils for it.
I personally think it's cheaper to just buy some sanitizer than to make homemade sanitizer. If you buy a big jug of it then the store bought sanitizer can last a really long time! Even though it's not much cheaper, this is a very, very simple recipe and takes less than 5 minutes to make!
Homemade Hand Sanitizer Tips:
Keep small lotion bottles that are empty to put your homemade hand sanitizer in for your purse, backpack, locker, lunchbox, car, changing table or diaper bag. It seems like we always have small samples of lotions that we are using up so this is a great way to recycle the bottles.
If you can't find 99% rubbing alcohol another option to making homemade hand sanitizer would be to just put some rubbing alcohol in a small spray bottle (like the eyeglass cleaner bottle) and keep it in your purse. Then just spray a couple of times on each hand, rub together and you're done with much less work and expense.
You can also put this in an old hand soap pump bottle and keep it on the counter. Of course, decorate it!
You can put it in a cute little plastic container and give it as a gift to someone who is germaphobic.
Would you like to serve food that will lower your grocery bill and your family will love to eat?
Click here to get our Dining On A Dime Cookbooks, with tasty recipes and great tips to make your life easier and save you money!
Homemade Hand Sanitizer Recipe
1/3 cup of aloe vera gel
2/3 cup 99% rubbing alcohol*
8-10 drops of essential oil, optional (such as vanilla, lavender, grapefruit, peppermint, etc.)
Mix ingredients. Put funnel in the opening of the bottle and pour the mixed ingredients into it.
*If you can't find 99% rubbing alcohol just use less aloe for a thinner hand sanitizer and put in a spray bottle.