This chicken and dumplings soup recipe is an easy way to make chicken and dumplings like mom and grandma used to make! It's a perfect comfort food! This chicken and dumplings soup recipe can be found in our Dining On A Dime Cookbook on page 197!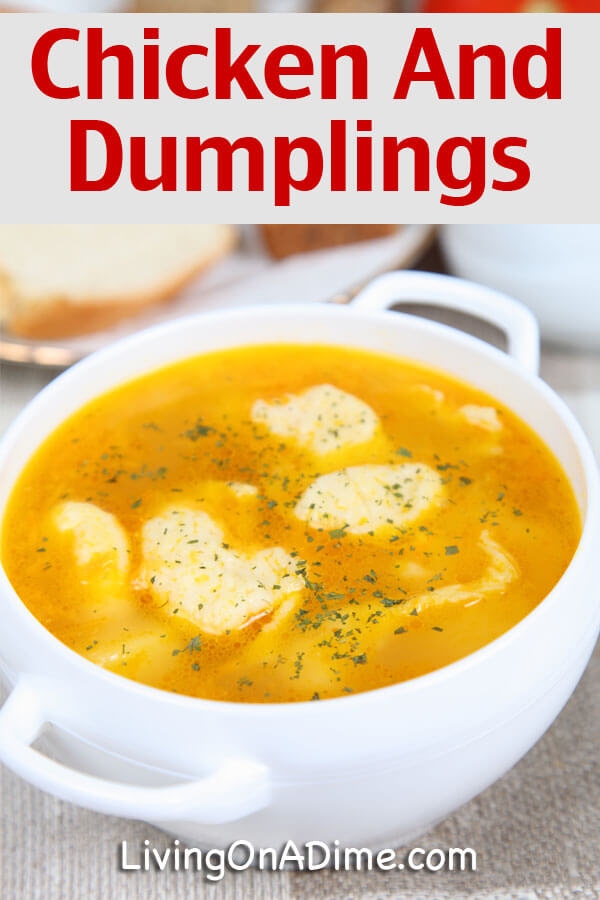 Chicken and Dumplings Soup Recipe
4 cups chicken broth
1/2-1 1/2 cups chicken or turkey, cooked
1/2 cup celery, sliced
1/2 cup carrots, sliced
1 bay leaf
1 tsp. parsley flakes
Dumplings
2 cups baking mix
1/4 tsp. thyme, dried
1/2 tsp. parsley flakes
2/3 cup milk
In a Dutch oven, combine broth, chicken, celery, carrots, bay leaf and parsley. Bring to a boil.
In a bowl, combine baking mix, thyme, and parsley. Stir in milk just until moistened.
Drop by tablespoonfuls into the boiling broth.
Cook uncovered for 10 minutes and then cover and cook an additional 10 minutes. DO NOT PEEK or your dumplings will be soggy.
Remove dumplings with a slotted spoon and serve in bowls. Remove bay leaf and spoon broth over the top of the dumplings. Serves 4.
Would you like to serve food that will lower your grocery bill and your family will love to eat?
Click here to get the Dining On A Dime Cookbook, with tasty recipes and great tips to make your life easier and save you money!