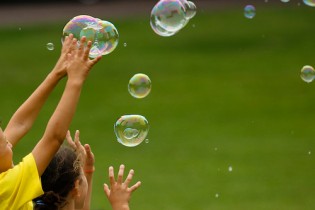 How to make homemade bubbles:
1/4 cup liquid dishwashing detergent
1 Tbsp. sugar
1/2 cup water
Put the dishwashing detergent in the water. Carefully stir in sugar, trying to avoid suds. Take a regular drinking straw and cut into 4 pieces. Then dip into the solution and blow your bubbles. Tie a rope loop up to a foot in diameter on the end of a stick and make a gallon of bubbles. Dip the rope in the bubbles and run with them. This will give you giant bubbles.
From Dining on a Dime
[adsense2]
photo by: ciccioit