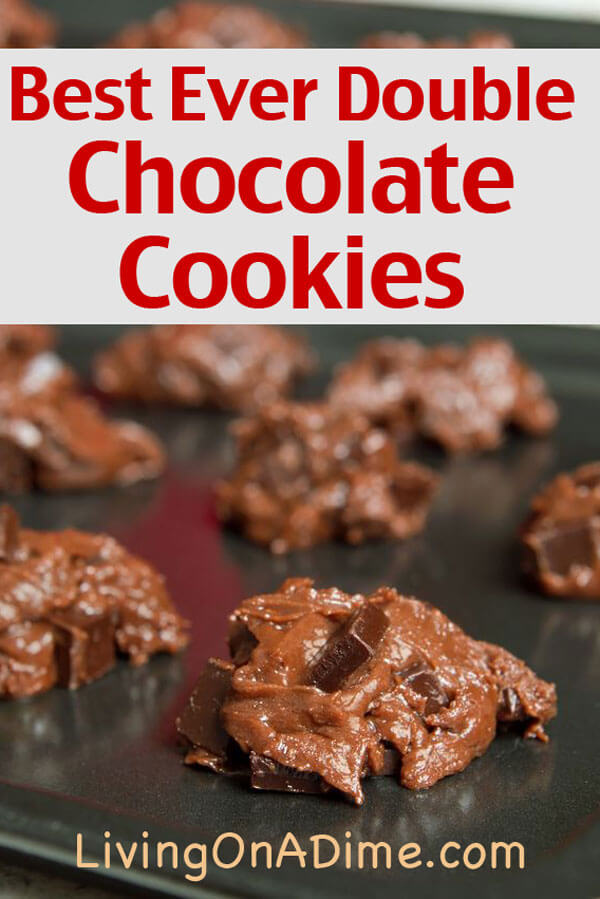 This double chocolate cookies recipe makes the most decadent and delicious chocolate drop cookies! If you need your chocolate fix for the day, these are definitely the cookies for you! They are so easy to mix and bake, you can make them in just a few minutes… Hmm, they might even be a little too convenient! ;-) Try them today and you'll be sure to add them to your list of delicious desserts you can make in a hurry!
Best Ever Double Chocolate Cookies Recipe
8 oz. semi sweet chocolate chips
4 Tbsp. butter
3/4 cup brown sugar
2 eggs
1 tsp. vanilla
1/2 tsp baking powder
1/2 tsp. salt
2/3 cup flour
12 oz. semi sweet chocolate chips*
Nuts, optional
Preheat oven to 350 degrees. In mixing bowl, melt the 8 oz. chocolate chips and butter together in microwave. To this add remaining ingredients in the order they are listed and mix well. Drop by teaspoons full on a greased cookies sheet and bake for 12-15 minutes.
*You can use chunks of chocolate too.
[adsense2]