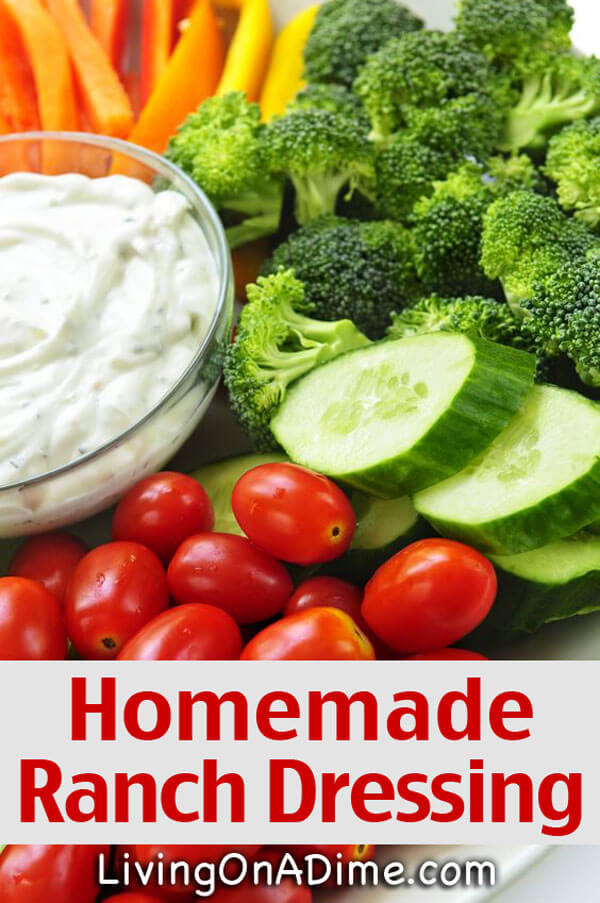 Homemade ranch dressing is quick and easy to make and is versatile for salads, vegetables and lots of other foods. It also makes an easy a party dip!
Ranch Dressing Recipe – Ranch Dip Recipe
1 cup mayonnaise (low-fat may be used)
1 cup buttermilk
2 Tbsp. green onions, minced (tops only or chives)
1/4 tsp. onion powder or 1 Tbsp. fresh onions, minced
2 tsp. parsley, minced
1/2 tsp. oregano
1/4 tsp. garlic powder or 1/2 to 1 garlic clove, finely minced
1/4 tsp. paprika
1/8 tsp. cayenne pepper
1/4 tsp. salt
1/4 tsp. black pepper
Combine ingredients in a container with a lid and refrigerate before serving. Makes 2 cups. For Ranch Dip, use sour cream or yogurt in place of buttermilk.
Would you like to serve food that will lower your grocery bill and your family will love to eat?
Click here to get the Dining On A Dime Cookbook, with tasty recipes and great tips to make your life easier and save you money!