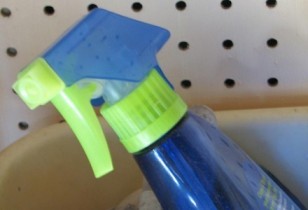 All Purpose Cleaner Recipe
1 gallon water
1 cup ammonia
1/2 cup vinegar
1/2 cup baking soda
Combine all ingredients. Put in a spray bottle to clean showers, toilets, sinks and counters. Great for most cleaning needs. Use all-purpose cleaner to clean your floors. Just spray on and wipe off as you would counter-tops.
This is not a disinfectant. To make it a disinfectant too I add about 1/4 cup rubbing alcohol  to the bottle.
From: The Dining On A Dime Cookbook. For more homemade cleaner recipes, check out Dining On A Dime here!
Photo By:  toofarnorth