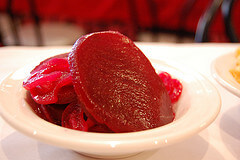 Pickled Beets and Eggs
1 can (13-14 oz.) sliced beets
1/2 cup sugar
1/4 cup vinegar
1/2 cinnamon stick
6 whole cloves, optional
8 hard boiled eggs, shelled
Drain beets and save juice. Add enough water to juice to make 3/4 cup and pour into a saucepan. Add sugar, vinegar, cinnamon stick and cloves and bring to a boil. Remove from heat. Place eggs in a bowl. Top with beets and pour liquid on top. Cover and chill for 4 hours or overnight. 
We just had a reader (Lois) comment that she buys canned beets and puts hard boiled eggs in the juice from those which is a great idea.
It reminded me of a few uses for pickle juice:
~Put fresh veggies, cauliflower, broccoli, mushrooms, carrots, cucumber etc. Let set for a few days before eating. Reuse the juice only once. You can also add them to the jar before the pickles are all gone.
~Use it to spice up pasta salads.
~Mix with mayo for an nice salad dressing.
~Pickle your eggs in it then make egg salad for a different flavor.
~Use the the juice to add flavor to potato salad, egg salad, deviled eggs. Instead of vinegar in deviled eggs use pickle juice.
Photo By: stuart spivack