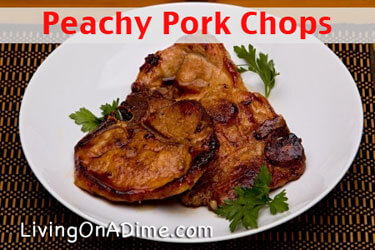 Menu:
Peachy Pork Chops*
Boiled Red Potatoes
"Cool" Veggie Salad*
Bread w/ butter and jam
Butterscotch Pudding Parfaits
     (layers of butterscotch pudding and whipped topping)
Peachy Pork Chops Recipe
4 pork chops
1 10 oz jar peach jam
2 Tbsp. vinegar
1 Tbsp. mustard
1/2 tsp. Worcestershire sauce
Dash of Tabasco sauce
Brown meat and cook until done. Mix and heat rest of ingredients and serve over meat.
"Cool" Veggie Salad
1 head cauliflower, cut into pieces
1 bunch broccoli, cut into pieces
10 oz. frozen peas (peas don't need to be cooked)
1/4 to 1/2 cup onion
Dressing
1 cup sour cream
1 cup salad dressing (like Miracle whip)
1 pkg. Hidden Valley ranch dressing mix
Mix dressing ingredients. Pour dressing over veggies and chill overnight. Will keep well in the fridge for several days.