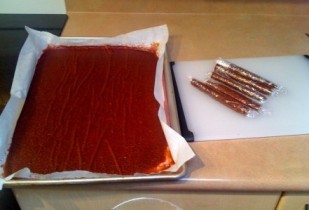 Homemade Strawberry Fruit Leather
3 cups fresh or frozen strawberries*
1 Tbsp. lemon juice
1 Tbsp. light corn syrup
Place strawberries in a blender and process until smooth. Measure 2 cups of strawberry puree. Stir in lemon juice and corn syrup. Line a 15×10 inch jellyroll pan with heavy-duty plastic wrap and tape plastic wrap to the pan at the corners. Pour strawberry mixture in prepared pan and spread thin, leaving 1 inch on all sides. You can adjust this to fit your dehydrator or another pan; be sure it is spread thin on the pan. Dry in an oven at 150° or a dehydrator for 7-8 hours or until surface is no longer sticky. Remove leather from pan while still warm and roll up jellyroll fashion. Cut into logs and wrap in plastic wrap. Make five 2 inch logs.
*Any other fruit may be used in place of the strawberries.
For more quick and easy recipes like this easy strawberry fruit leather, check out our Dining On A Dime Cookbook!
photo by: tazmobile