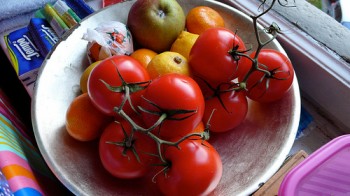 Fruit and Vegetable Wash
You really don't need a special cleaner for your fruits and vegetables. Just wash them with a weak solution of dish detergent and a scrub brush works just fine. If you still insist on using a special wash. This is a good recipe that is the same as the "natural" stuff in the store.
1 Tbsp. lemon juice
2 Tbsp. baking soda
1 cup water
Put ingredients in a spray bottle. Be careful because it will foam up. Spray on vegetables, let sit 5 minutes then rinse with a scrub brush.
From Dining on a Dime
photo by: visual07