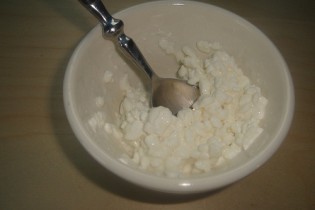 Cottage Cheese Salad
This salad is a good way to take a break from the usual veggie salad and sweet salads. Even though it has a pretty Christmas look to it it is great all year long.
Cottage Cheese
Green peppers, diced
Tomatoes, chopped small
Salt and pepper
Add desired amount of peppers and tomatoes to a carton of cottage cheese. Then salt and pepper to taste. This is a very quick and easy salad and goes with so many things. 
You may also use other veggies like radishes, green onions or what ever you have on hand.
From Dining on a Dime
photo by: chris corwin