We have had some readers ask how do you make carpet balls out of rags to use for rag rugs either braiding, crocheting, knitting or on a loom.
First cut you fabric in about 1 inch strips. Remember this isn't an exact science so each strip doesn't need to be perfect.
Tips:
1.Try to cut down the longest part of clothing or fabric when possible. For example cut the strips down the length of the sheet or pant leg not across. This gives you less strips to sew together.
2.When cutting a sheet cut the top and bottom hems off first then you can make about 1/2 inch cut notches 1 inch apart across the top and rip the strips instead of having to cut all the way down each strip.
3. If you are beginner using something like a sheet is better to start with because they are easier to handle. Jeans, wool, t shirts etc. are thicker and stretcher and a little more awkward at first.
4. On any article of clothing etc. cut off the extra parts like buttons, zippers, collars so you can get the longest "cleanest" chunk of fabric you can.
Next take your strip and fold in half and lightly finger press about the first 6 inches and then start rolling into a ball. It will feel awkward those first few rounds but it gets easier as you go. 
Just keep folding, finger pressing a few inches and roll.
When you come to the end of the strip, fold it in half, take a new strip with it's end folded and slide it into the old end about 1 inch.
Sew together and keep wrapping.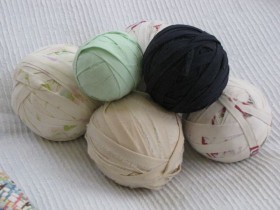 I try to do like fabrics and colors together. For example I roll one sheet into a ball and add nothing more to it. If I have a couple of the same thing let's say 2 white sheets, I will roll them together and if I have several jean strips from different jeans I will do those together.
Cut the strips with the grain of the fabric and not the bias (or diagonally for you non sewers) because this helps to not stretch it too much.
Most people don't fold their strips in half but just roll them flat you can do this if you want but I find it gives a much neater and finished appearance if you do.
Below are some rugs my grandmother made on her loom and you can see they don't have quite as much fraying as do rugs where the carpet balls aren't folded in half. It really is personal preference.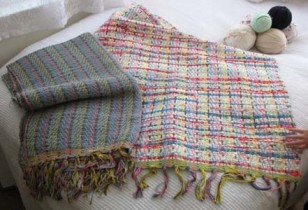 If you would like to make a braided rug, here is a video showing how to do it.