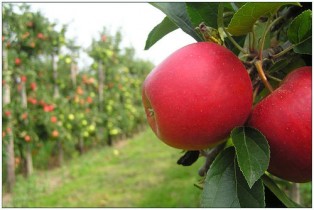 Here are some useful tips to help you prepare food using apples:
Baking apples include Granny Smith, McIntosh and Rome. These tend to be great for baking but not so good for eating unbaked. I like to keep apples like Gala, Jonathan and Golden Delicious on hand because you can eat them or bake with them.
Red Delicious Apples are usually used for eating, but I have used them in a pinch in baking. Red Delicious apples become much softer when cooked, but since I like my apples sweet and very soft when cooked, that doesn't bother me.
When you have a partially eaten apple, save the good part and chop it into pieces. Place in a microwave safe dish. Blend together 1 tsp. each brown sugar, flour, oatmeal and margarine and a dash of cinnamon. Top the apple with the topping and microwave until tender.
Core and slice apples very thin. Dehydrate and use in granola, eat alone or soften in warm water to use in recipes.
Slice apples and use in Pancakes or waffles.

To freeze apples: Peel, slice and core. Then store in 2 cup portions in freezer bags.
Use soft apples in cooking.

Cut into small pieces and add to salads with a fruit based dressing.

To keep apples crisp, keep them in the fridge to help them stay crisp.
When you can, eat the peel on your apple. That is where 2/3 of the fiber is found.
When making baked apples, you can put all kinds of things in the center, including candied pineapple, orange peel, ginger, peaches, berries, raisins, honey, corn syrup and even marshmallows.
Photo By: digicla