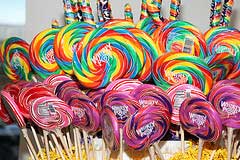 Easter Fun – Jelly Bean Suckers!
For a different twist on an Easter egg hunt this year, try planting jelly beans the night before. Take 3-5 jelly beans and plant them in a little dirt. The next morning when the kids get up, they should find that a lollipop that has grown where the jelly beans were planted!
It is fun to make the sucker or lollipop the same color as the jelly beans and you could use different colored jelly beans for a multicolored sucker.
Also I do know kids so they will probably try to get you to plant jelly beans every night so to help you moms and dads out  tell them they will only grow on the night before Easter. We parents always need to stay on step ahead.
Jill
Photo By: Oh Nuts