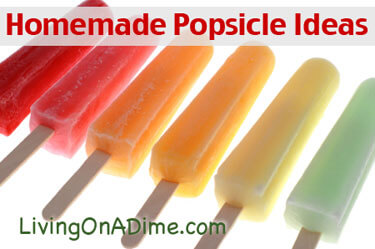 Moo Fruit Freezer Pops

(submitted by Roxie in Texas)
1 bag (16 oz.) frozen fruit. (I used some strawberries I had frozen)
1 1/2 cup of milk
1/2 cup of sugar or Splenda
Combine the fruit, sugar, and 1/2 cup of milk in a food processor and process for 5 seconds. Add the rest of the milk and process for 15 seconds more. Mixture should be smooth and almost frozen. Scoop 1/2 cup of frozen mixture into 5 oz cups or popsicle molds. Insert sticks and freeze until firm.
Banana Pops

(Submitted by Lisa)
Slice bananas into disks (we have bananas on sale this week for $.29/lb)
Roll banana discs into PLAIN yogurt (you can use vanilla yogurt, but I used plain because that's what the recipe said, and that was back in my super healthy days)
Add any kind of topping you wish. We rolled our disks in chopped pecans. I know that's expensive, but we love pecans so much. After freezing these we ate them AND YOU WOULDN'T BELIEVE THE TASTE! It was like eating a frozen candy bar. Okay, maybe not that good, but they were sweet and refreshing, and I didn't have to put a limit on how many the kids could eat.
Other toppings that work well: chopped raisins, granola, any kind of nut (cashew, peanuts, almonds), peanut butter (this would be without the yogurt), and of course, melted chocolate or chocolate chips.
My son is not a fan of bananas, but he really liked this treat. You can even eat them plain. Oh, yeah, another topping we did was a cinnamon/sugar mixture. Believe it or not, it was good too! I will warn you that it's messy because of the yogurt. And super messy if the kids help! But you don't have the guilt of giving them something unhealthy, and it's a cheap "popsicle."