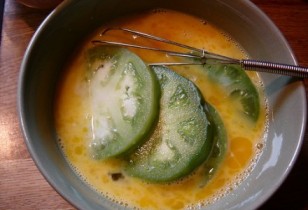 Fried Green Tomatoes
2 quarts water
2 Tbsp. salt
4-6 medium green tomatoes, unpeeled and sliced
1 cup flour
1/2 cup vegetable oil or bacon grease
salt (to taste)
In a mixing bowl, mix salt and water. Soak sliced tomatoes in salt water mixture for 30-40 minutes. Drain and drop slices a few at time into a bag in which you have placed the flour. Shake thoroughly to coat. Heat the oil in a large skillet and carefully place the slices into the hot oil. Brown until crisp on both sides. Salt to taste.
You can also use squash, zucchini or eggplant in place of or with the green tomatoes. Serves 4-6.
From A Reader:
Hi Tawra, I love your site!
You may want to try a trick my mother taught me about fried green tomatoes. After slicing the tomatoes, place them in a single layer on paper towels or a microwave safe plate. Microwave on high for 4 minutes. Cool until able to handle them and proceed as usual.
This allows you to fry them at a higher temperature, which speeds up the cook time (saving power) and keeps the tomatoes from soaking up as much oil.
Nan S.
For lots more quick and easy home cooked recipes like this, check out our Dining On A Dime Cookbook.
Photo By: trekkyandy