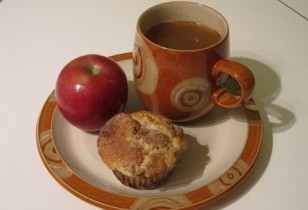 &
Easy Hot Apple Cider
Here is a great hot apple cider recipe someone gave me.
1 bottle apple juice
handful of cinnamon candy (red hots)
Heat in a crock pot or on the stove on low till dissolved. Then enjoy!
Thank you, Jennings
If you don't have red hot candies, here is the hot apple cider recipe from Dining on a Dime.
You can adjust these ingredients to suit your own taste. I love mine sweet, so I add almost twice as much sugar. You can adjust the other spices too.
I put my hot apple cider on the lowest setting my burner will go and simmer the cider for hours just because it makes the house smell good. You can put it in a crock pot and leave it on low for the same effect.
Wassail or Mulled Cider
8 cups apple cider
1/4 cup brown sugar
1 tsp. whole cloves
1 tsp. whole allspice
1 cinnamon stick
Heat all the ingredients to boiling; reduce heat. Cover and simmer 20 minutes. Strain and pour into a punch bowl. Serves 8.
photo by: wlayton