Save Time, Save Money And Grow Rich!
We Will Show You How To Prepare Quick And Easy Recipes Made With Simple Ingredients Your Family Will Love that will ALSO Save You Money! (Without cutting coupons!) We get excited about sharing tasty new recipes and great tips to make your life easier!
Dining On A Dime Is Realistic! It's full of truly quick and easy recipes that your family will ACTUALLY EAT, which have all been designed with inexpensive and easy to find ingredients.
Using the recipes and tips in this 584 page cooking encyclopedia, we show how anyone can tighten his or her food budget.
Dining on a Dime is packed with over 1,200 money saving recipes and tips– gift baskets, kids tips and snack ideas, menus, food storage directions, Cleaning Cents and Pretty for Pennies. The recipes are easy to cook with ingredients that you probably already have in your pantry.
(If you like, you can skip to ordering here.)
A Sneak Peek At What's Inside…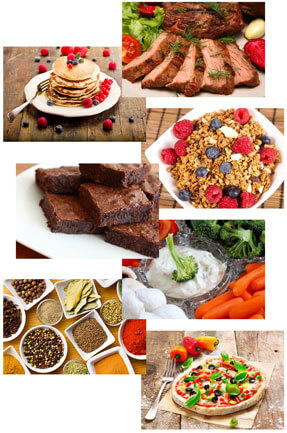 Pancakes – The best homemade pancakes you will ever eat!
Slow Cooked Pot Roast – Just like Grandma's
Fudge Brownies– Even better than a box mix
Granola– Why pay $4 for a box when you can make it yourself for $1
Homemade Seasonings– Don't run to the store every time you run out of an ingredient
Ranch Dressing – Who knew homemade tasted so much better?
Pizza– Save $20 on take out and make it at home for $2!!!
and over 1200 other money saving recipes and tips…
…that are quick to prepare. Unlike some of those other frugal cookbooks that include meals where you'd have to sacrifice flavor and take lots of time to prepare, our meals are quick and easy. The recipes require minimal time in the kitchen so you can spend more time enjoying your family.
All of the recipes are made with simple ingredients and they're easy and fast to prepare so anyone will be able to find the time to prepare them. They are also kid friendly so the whole family can enjoy these nutritious meals.
These books would make wonderful gifts for all those people you want to help (but don't want to seem lie you're butting in! 😉 ) Like:
teenagers
grandkids
newly married couples
brides to be
teachers
babysitters

new single moms
bachelors
your hairstylist
ANYONE you want to help get out of debt, or just give a "thank you" gift for the upcoming holiday season.

 
(Most of you are probably familiar with "Dining On A Dime", but if you're not… Click here for more details about what is in this treasury of money-saving recipes, menus, tips and strategies — over 1200 in all!)
So here's our very special offer!
Buy a 3 Book Set And Get it All For $29!
Order a 3 book set, and you'll get Dining On A Dime 20th Anniversary Edition, together with Penny Pinching Mama and our Menus From Dining On A Dime Meal Planner for just $29.00!
This special sale offer is only good until Tuesday, September 17th, so grab it now!
---

Your order is secure with our secure payment processor, Stripe.
ORDERING
Save When You Buy a 3 Book Set!
Get Dining On A Dime 20th Anniversary Edition, Penny Pinching Mama And Menus From Dining On A Dime meal planner, together for just $29.00!
(If you're outside the United States, we have created shipping which is discounted off of the actual cost the post office charges us. To find out the shipping cost for your country, please add the items to your shopping cart. If the cart says we don't ship to your country or territory, please email us for a shipping quote and we will add your country.)
---

Your order is secure with our secure payment processor.

To Order By Check Or Money Order:
To order by check or money order in U.S. Dollars, please send payment, including shipping, postmarked by September 18th to:
Living On A Dime
P.O. Box 193
Mead, CO 80542
Please indicate the number of copies that you wish to purchase and include your complete mailing address, email address and telephone number. (in case we have problems with your order. We do not sell, give or trade your contact information to anyone.) Also, please tell us how you heard about this sale.
If you have a question about ordering our products, contact us here.