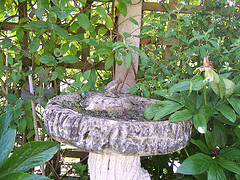 Using Broken Bird Baths
Here are a couple good ways to make use of broken bird baths:
If you have an old bird bath and the top has been broken, save the base. Find a pretty bowling ball at a garage sale and set it on the base for a unique lawn ornament.
Fill with soil and put succulents in it with a tiny house and a couple of fairies for a cute "fairyland" arrangement.
[adsense2]
photo by: stuart001uk