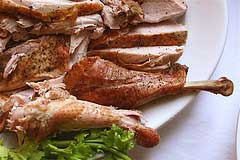 Transporting Food In The Car
One of our readers, Margaret, wrote in and told of an accident she had with the holiday dishes she was transporting. I thought I would post my answer to her to help some of you avoid disaster when transporting your holiday food.
When transporting food items, here are a couple of things you can do to make it easier. Margaret recommended having someone hold the dish when possible, which I highly recommend. If you can't, try this: I set my dish (hot or cold) in the center of a large flour sack towel, bring up the two opposite corners and tie. Then I bring up the other 2 corners and tie.
This helps keep the lid from moving. If the food is hot, the knot you made on the top gives you a handle to help hold it by. If it is very hot, you can place a hot pan holder in the center of the towel before setting the dish down. The towel it is wrapped in helps soak up some of the spills if you happen to have any spills. The towel also insulates the food, helping keep it warm.
I have used this technique for years to transport food, but in recent years, I have a new all time favorite. Now I wrap the dish in the towel and then set it all inside a cardboard box that is deeper then the dish. The boxes don't seem to slide as much, they absorb the spills really well, the cardboard insulates the food, and the box helps make it easier when carrying a hot dish.
-Jill
Photo By: thebittenword.com