Christmas On A Dime:
Save Money And Eliminate The Stress!
Have fun during the holidays without spending a lot of money!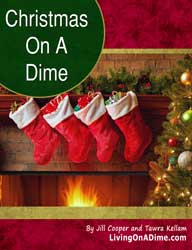 Do you get stressed out around Christmas time because everything seems so disorganized and you feel the pressure to spend way more than you feel you can actually afford? It IS possible to enjoy the holidays without having to pay for it for the next 5 years!
Tawra Kellam and Jill Cooper have put together 75 pages of their most requested recipes and articles from LivingOnADime.com to help you save money during the holidays and spend your time focusing on the true meaning of Christmas!
In the Christmas On A Dime e-book, you'll find lots of helpful tips including:
90 Homemade Gifts and Gag Gifts from Easy Bake oven Mix to Sugar Scrub to Homemade Christmas Coal
A Holiday "To Do" List
How to Have More with Less at Christmas
How Can I Spend Less on Presents Without Looking Cheap?
How To Make A Candy Christmas Wreath
Christmas On A Budget!
Homemade Gift Basket Ideas
Gift Wrapping Ideas
Gift Wrapping Money
Save Money With Unusual After Christmas Buys
Our Favorite Christmas Recipes
…and much more.
Get the Christmas On A Dime e-book today and enjoy a happier and more stress free holiday season!

Christmas On A Dime is available as an e-book, which is available for immediate download. What is an e-book? Click here to find out.
When your order completes, you will receive a confirmation e-mail with download instructions for your "Christmas On A Dime" e-book. If you experience any difficulties with your order, please contact us here.

Your order is secure with our secure payment processor.

If you have a question about ordering our products, contact us here.