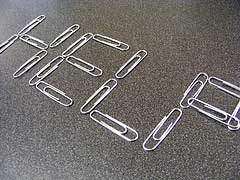 Organizing Offices, Study Areas and Store Rooms
Hi, This is so embarrassing. I can't seems to organize my study room or store room. Every time I clean and organize it, after a while, it's messy again. I am the only one using it, not other family members.

Please Help! Gina
Gina, it really is hard to keep offices and storage rooms under control so don't feel too bad about having trouble staying organized. We all have problems with storage areas and heavy use areas (the kitchen counter and table are two other examples).
Here are a couple of things that might help keep your study area and storeroom more organized:
When you do clean it make sure you get rid of as much as you can. This is probably the hardest step but the most important.

Then make sure everything has a home. If you can't find a home for something (a specific place to keep it) then you either need to get rid of it or find another place to keep it, possibly in another room. 

Keep books, files and other papers stored in a vertical position and not horizontally, like laying flat on a desk. Once something gets set on a horizontal surface like a desk or a counter, it becomes a magnet for anything that doesn't have a home. This is often the beginning of a big mess that will have to be organized later.

Put it away. Develop the habit of putting something back where it belongs as soon as you're finished with it. Don't lay it down and expect to get back to it later. Usually, you'll be on a different track later and you won't get right back to it. Put it back in its home.
You have to just keep on top of storage rooms, offices and other areas like this and just keep organizing a little as you go. These rooms usually get used or dumped in a lot and will tend to get out of control so either daily, once a week or once a month set aside a time to clean it once again. You can do it how often you want although since it drives you crazy I would say clean it at least once a week.
Keeping your office organized is like doing the dishes. Just when you get them washed,  it suddenly seems like there are more to do. You can either save them and wash a mound of dishes once a day or keep on top of it by washing them each time you use one or after a meal.
I went into great detail about cleaning and organizing your home in our Keeping it Clean e books, so you might want to check it out.
      -Jill
Photo By: banspy