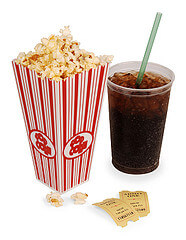 Is Netflix a Good Deal?
Connie from Baden, Pennsylvania asks:
"What do you think about "Netflix"?
Hi Connie,
It seems like if you watch a lot of movies, Netflix can be a very good thing. We haven't tried it, but Tawra's brother David uses it. He says that their plan (the three at a time plan) costs just under $20 per month.
I asked him some information about their experience with Netflix. They have used 194 movies in 9 months, which works out to about 21 movies per month. In that 9 month period, he estimates that they have only received 5 bad discs (not viewable for whatever reason). In our experience with renting or borrowing DVDs, 5 bad discs out of 194 is very good. He said that they also like it because there are no late fees (but if you are returning movies late you are not getting the best possible deal since you can only have a certain number out at a time).
I checked the Netflix web site (www.netflix.com) and they have less expensive plans that allow fewer out at a time and they have a more expensive plan that allows 4 movies at a time. It is also noteworthy that the shipping is included in the price.
We have considered trying it, but we are very intermittent with our movie watching. We may watch several in a week and then none for several weeks. We also like to watch older films more than a lot of the newer ones. We tend to get movies from the local library unless we want to watch a specific new release. (If you haven't thought of that, it's also a great way to save on movies.)
If you're like us and don't watch a lot of movies regularly, it may still be a good deal. Like I said, they have less expensive plans, so you can tailor it to your viewing habits. Consider that if you normally pay $5.00 per rental at a video store and you regularly rent at least 4 movies per month, you already pay at least as much as using David's Netflix account. For David, who watches a lot of movies, 21 movies per month works out to under $1.00 per movie. If you like watching current movies and are in the habit of renting them frequently, Netflix can save you a lot of money.
Michael
photo by: scypaxpictures