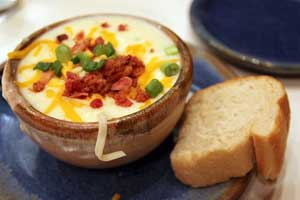 Menu:
Cheeseburger Soup*
Assorted crackers
Relish dip
Glorified Spice Cake*
Recipes:
*Cheeseburger Soup
6 medium potatoes, peeled, cubed and cooked
1/2 lb. ground beef, cooked
2 chicken bouillon cubes
2 slices of bacon, fried and crumbled*
Salt and pepper to taste
1 tsp. onion powder or to taste
4 cups of milk
8 oz. American cheese (don't grate, slices melt quickly)
1/4 cup sour cream
Cook your potatoes in Dutch oven and drain. Add the rest of the ingredients, except the sour cream, and cook just until heated through. Make sure bouillon cubes are dissolved and cheese is melted. Do Not boil. Remove from heat and add sour cream.
*I always fry an extra piece or two of bacon when I cook it to keep in the freezer to use in recipes like this one.
*Glorified Spice Cake
1 pkg. (18 1/4 oz.) spice cake mix
1 can (21 oz.) apple pie filling
2 eggs
2 Tbsp. vegetable oil
Nuts
Mix everything at medium speed for 2 minutes. Pour into well greased 9×13 pan and bake at 350° for 30-35 minutes or until toothpick comes out clean when inserted into it. Frost with caramel frosting* or top with caramel ice cream topping.
*Caramel Frosting
1/2 cup margarine or butter
1 cup brown sugar, packed
1/4 cup milk
2 cups powdered sugar
Heat margarine over medium heat in a 2-quart saucepan. When margarine is melted, stir in brown sugar. Heat to boiling, stirring constantly. Reduce heat to low and boil 2 minutes longer, still stirring. Stir in milk and heat to boiling. Remove from heat and cool. Slowly stir in powdered sugar. Place saucepan of frosting in bowl of very cold water and beat frosting until smooth.
If frosting is too stiff, add an additional 1 teaspoon of milk at a time until frosting is smooth. Frosts one 9×13 inch cake.
Photo By: theogeo