This homemade White Sauce recipe is easy to make and is useful for enhancing all kinds of meals along with tips for great ways to use it! This is the white sauce that grandma used to make when she made sausage and gravy or hamburger gravy on toast. This classic dish is easy to make and it's actually pretty nutritious. (Really, it's not as bad as it seems. 🙂  You can find this recipe in our Dining On A Dime Cookbook on page 143.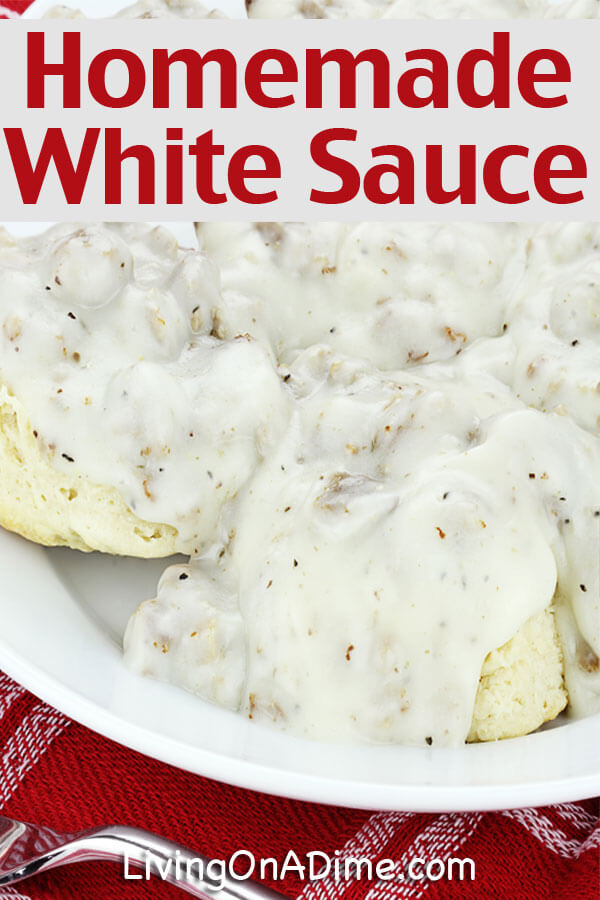 Homemade White Sauce Recipe
We tend to have a fear of white sauce in the same way we fear gravy. (White sauce is just unflavored gravy.) White Sauce is  very easy to make and you can use it in so many ways, especially if you are trying to stretch food like meat. I will give you the recipe but first let me give you ways to use it.
Add the following to white sauce:
Serve on toast with:

Hard boiled eggs, chopped
Can of tuna and/or frozen peas
Ham
Dried beef
Fried hamburger
Serve on Biscuits
Fried Sausage
As a side, serve white sauce with:
Potatoes, cubed and cooked with some melted American cheese
Broccoli, cooked and with some cheese
Cauliflower cooked and with some cheese
Macaroni and Cheese – Just add cooked macaroni and cheese to white sauce and bake until cheese is melted.
Use white sauce as a base for:
Chicken Pot pie
Casseroles
 This white sauce recipe is the one I use because I can get regular milk on sale and I prefer regular milk to dry milk.
Easy Homemade White Sauce Recipe
(From Dining on a Dime)
(Recipe makes 1 cup)
1/4 cup dry milk
2 Tbsp. flour
dash salt
1 Tbsp. margarine
In a covered jar, combine milk, flour and salt and mix well. Shake until all the ingredients are dissolved.
Melt margarine in a 1 quart saucepan. Stir in flour-milk mixture and cook over low heat until mixture thickens and starts to bubble. Keep stirring until thickened completely.
This recipe equals 1 can of cream soup. It can be doubled, but add only 1 ¾ cups water. Makes 1 cup. May be doubled or tripled easily to fit your needs.
White Sauce
2 Tbsp. flour (about)
1 cup milk
Pour milk into a pan. Sprinkle flour on top and whisk as you pour. Over medium heat, cook and whisk until the white sauce is thick.
Note: The ratio is 2 Tbsp. flour per 1 cup of milk. I usually use 2-3 cups of milk for most things. If the sauce is too thin you can try adding a little more flour but sometimes adding more flour causes lumps. To avoid this, I would add equal parts water and flour in a container, shake and then slowly pour into sauce to thicken more if you need to. Of course, if it is too thick just add a little more milk.
 This white sauce is the one we originally included in our Dining on a Dime Cookbook because, at the time, using powdered milk saved money and it was convenient to use dry milk if you ran out of milk.