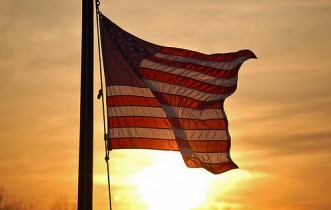 I am so proud to be an American.
I never take that fact for granted.
Maybe it comes from being raised in the military, having a grandfather who came from Greece and had to  earn his citizenship or having lived in other countries. I don't know but they all make me appreciate this country so much and I do love it.
This Fourth I hope we all remember what a great heritage we have been given and the lives which have been laid down for our freedom. 
I know most of you will probably hear our Star Spangled Banner played some time this weekend and instead of wishing it would hurry and end so you can sit down and watch the fireworks, pause and really think about why that song is our national anthem.
It was the war of 1812. The White House and Capitol had been already burned down. Francis Scott Key was detained on a British ship watching the attack of Fort McHenry. During the morning a heavy rain was falling but he could still see the flag flying over the fort.
Towards evening the battle became heavier and heavier then in the night the fighting ceased. In the dark and through the heavy rain they strained to see if the the flag was still waving, meaning we had won.
Oh say can you see by the dawn's early light,
What so proudly we hail'd at the twilight's gleaming
Slowly at dawn as the sun broke through and the clouds cleared they could see our flag proudly and bravely flying. Can you imagine the great joy and pride they felt at that moment which led him to write these next words?
Tis the star- spangled banner – O long may it wave.
O'er the land of the free and the home of the brave.
There is a reason we stand when our flag goes by and our national anthem is played. It is so we can take a moment to remember and to pay respect to all that has been lost and given for our freedom. Don't take it for granted.
-Jill 
Note from Tawra: GO OUT, BUY A FLAG AND FLY IT!!
photo by: pmillera4